The London Buddha Statue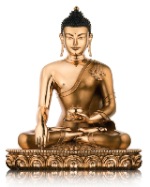 A very special Buddha statue has been produced for the London Diamond Way Buddhist centre, and we are really fortunate to be able to house such a Buddha here.
The London Buddha statue is based on a famous statue of the historical Buddha Shakyamuni in Bodhgaya, India, the place where the Buddha achieved enlightenment 2,500 years ago. Its production represents an historic occasion, because no project of this kind has ever been undertaken in the West before. In Asia, statues of bigger sizes (the Buddha is 1.7m high) are often made of clay, and then painted and covered with gold. Using traditional methods, it would take several years to make a statue of this size out of metal.
Below you can read about the different aspects of the statue and its journey to London.
Traditional process
In Buddhism, meditational art has immense significance. It is not just for decoration, but represents an opportunity for those who view it to transform their perception from confusion to clarity. This is because the proportions, positions, and details of a Buddha image represent, encode, and trigger recognition of different aspects of enlightenment – of the perfect development of wisdom, compassion, and joy that is the goal of Buddhist practice.
The responsibility for creating such a tool for enlightenment ultimately rests with our realised Buddhist teachers. Lama Ole Nydahl, founder of Diamond Way Buddhism, wished to have large Buddha statues of the finest quality for the main Diamond Way Buddhist centres in the West, including London. Sherab Gyaltsen Rinpoche, an important lama from Nepal, advised on the process, and has trained an international statue filling team of Western students.
Modern methods
In the West, metal statues are perceived as something very precious, and so research was done into ways of creating the statues in Europe with the use of modern Western technology. A European art house specialising in fine metal art was finally commissioned. The process involved was therefore entirely different to the typical Asian method that has been practised for centuries. In every respect, this project was a venture into uncharted territory.
The process began with 3D image modelling, with the input of Lama Ole Nydahl, in order to create a statue with Western features. Using the most advanced technology and a high level of precision, the outcome is an unparalleled level of beauty and solid engineering.
An exceptional feature of the statue is its shining surface. This is the result of special surface coating and polishing techniques, of the kind used for commemorative coins. It increases the metal's resistance to corrosion and gives the statue a brilliant and radiant gloss. Because of this visual effect, it becomes less easy to see it as something solid or real, but instead the Buddha appears more like an energy form. Sherab Gyaltsen Rinpoche himself said he has never before seen a statue of such quality.
Blessing
The transformational quality of a genuine Buddha statue is called blessing by Buddhists. It may be felt as an increase in clarity in meditation, as feelings of peace in the presence of the statue, or as a fascination with the beauty of its outer form. Metal Buddha statues are always filled with significant objects, relics, and beautiful items, such as flowers, incense, and rolls of mantras (sacred syllables). They are then finally blessed by qualified Buddhist masters.
A properly finished statue constantly radiates benefit to the surrounding area. It is therefore considered very auspicious to support the creation and filling of a traditional Buddhist statue.
Please see this blog post for details of how you can support this project.
For inspiration, below you can see the identical statue that was inaugurated in the Europe Center in Germany, the main Diamond Way Buddhist centre, in the summer of 2014.
News posts about the Buddha statue
Below you can find different news posts on our blog that relate to our London Buddha statue. You can also subscribe to the blog, and get the latest news from the Buddhist centre on all topics delivered by email.