Diamond Way Buddhism
Diamond Way Buddhism is an organisation of Buddhist centres around the world, for people who want to use Buddhist methods in daily life. His Holiness the 16th Karmapa, head of the thousand-year old Karma Kagyu lineage, charged Lama Ole and Hannah Nydahl in the 1970s with bringing the authentic teachings and meditations to the West. They were to start lay Buddhist centres in his name. Today, there are more than 650 Diamond Way Buddhist centres, located in all spiritually free countries of the world.
Where does "Diamond Way" come from?
This school takes its name from the literal translation of Vajrayana, an ancient Sanskrit word denoting the highest and most direct level of Buddha's teachings. As the name "Diamond Way" indicates, we use these teachings, along with the unique meditations of the Karma Kagyu lineage. We present these traditional practices and ideas in a modern, Western, accessible context. For example, almost everything is translated into English. Keeping the essence and avoiding the cultural baggage gives well educated Western people the best chance to check if Diamond Way is something that benefits their lives.
All Diamond Way Buddhist centers and organizations are run on a voluntary basis and supported by personal donations, center memberships and profit from Buddhist courses, lectures and books.
Because Diamond Way is a lay organisation, it's presented in a way that busy people with productive lives, jobs, and families can learn and practice what is most relevant and most powerful. The meditation on the 16th Karmapa, for example, which we practice every Thursday together, only takes 25 minutes, but has a strong and cumulative effect on the way we view the world and interact with other people.
Diamond Way Buddhist Centres
Diamond Way Buddhist Centres range from large purpose-built buildings to a rented space in a public building. Wherever there is interest in the authentic methods of the Karma Kagyu, people get together to meditate and socialise. Every centre hosts guided meditations at least once a week and you can also get explanations about meditation from experienced Buddhist practitioners. Our centres in the UK are run independently, while belonging to the registered charity Diamond Way Buddhism UK.
Among the international Buddhist centres, Copenhagen was the first to be founded by Lama Ole and Hannah Nydahl when they came back from the Himalayas, and recently celebrated its 40th anniversary. In line with this history and the transplanting of Karma Kagyu Buddhism to the West, whereas most Diamond Way centres have a clean, modern this centre has splendid wall paintings in a traditional Tibetan style, which were recently restored.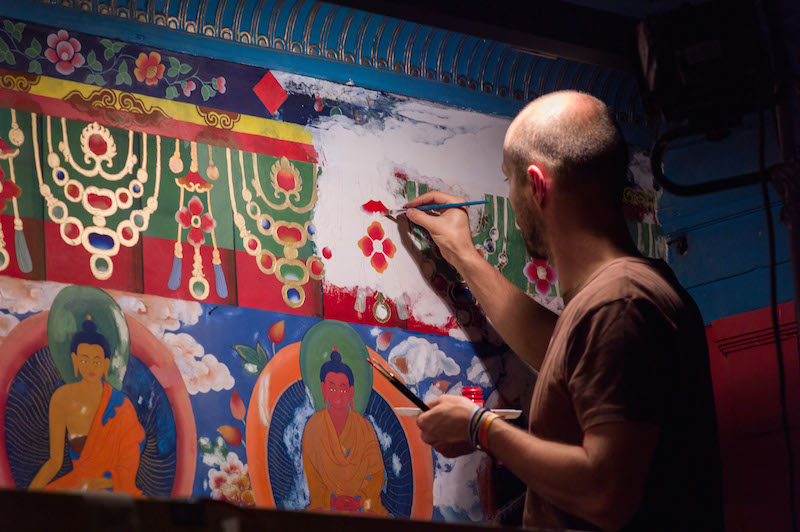 The Europe Centre, bought in 2007, is notable for being the main place to which practitioners travel for meditation courses and meet the teachers. The Europe Center is a beautiful art-deco mansion with several new supporting buildings, providing enough space for thousands of people to meditate together, against the lovely backdrop of the Bavarian Alps.
The London Diamond Way Buddhist centre has been generously supported by the Diamond Way Buddhism Foundation, which is an international charity that runs international cultural and academic initiatives. Read more about how the Foundation helped us transform The Beaufoy from a derelict building into a thriving Buddhist centre.